God's Justice and Animal Welfare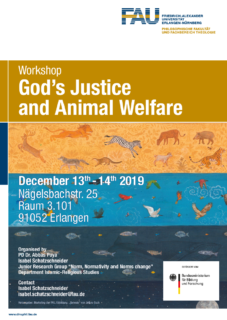 13th – 14th December, 2019
The junior research group "Norm, Normativity and Norm Changes" is organizing a workshop called "God's Justice and Animal Welfare." This event aims to fathom the understanding of to what extent non-human animals are recipients of justice. Hereby, interdisciplinary approaches are used to find answers to the research question.
Contact: Isabel Schatzschneider
The workshop is open for interested researchers and students. Registration is required.
Here you can find the official program of the workshop.
For more information, see the poster of the workshop.