Prof. Dr. Mohammed Nekroumi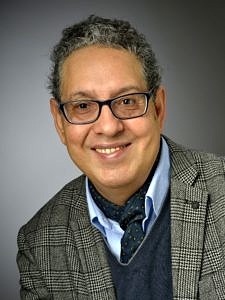 Chair of Islamic-Religious Studies with the Focus Text Analysis and Jurisprudence
As part of the Chair of Islamic-Religious Studies with a focus on textual discourse and analysis, the relevant thematic priorities of theological text hermeneutics represent the rich Islamic theological tradition with regard to the epistemological process of religious norm formation in teaching and research. This research field addresses fundamental questions of traditional exegetical approaches in the process of theological derivation of norms from the revelation sources of Islam. Here, the phases of the history of ideas and the presuppositions of normative basic concepts of Qur'an and Hadith hermeneutics with regard to the change in the way Muslims live are at the center of the interest of textual research.
Biography
| | |
| --- | --- |
| Since 2015 | Chair of Islamic-Religious Studies with the Focus Text Analysis and Jurisprudence at the Department for Islamic-Religious Studies at FAU |
| 2013-2015 | Expert Representative for Quranic exegesis (University of Münster) |
| 2011-2013 | Research Assistant (University of Tübingen) |
| 2006-2011 | Lecturer (Free University of Berlin) |
| 1996-2006 | Research Assistant (University of Bonn) |
More information such as academic positions and international conferences can be found here.
Research Profile
Hermeneutics of Quran and Hadith
Islamic law

Islamic jurisprudence and theological ethics

Theological textual hermeneutics
Jurisprudence in Islam
Question of derivation of norms from the authoritative sources of Islam regarding the contemporary practical life of Muslims
Question of theological text interpretation in context of social and epistemological diversity
Relationship between Man and Society
Relationship between Man and God
Alterity in Islam from a faith perspective
Current Research
"Ehre in Familie, Recht und Religion – Lokalismus im Strafrecht als Herausforderung für die Einwanderungsgesellschaft"
in collaboration with the Chair for criminal law and criminal trial law at the University Luzern, the theological faculty of the University Luzern as well as the faculty of law of the German-Turkish University in Istanbul.
Head of Project: Prof. Dr. jur. Andreas Eicker
Publications
A selection of recent publications can be found here.
Presentations
An overview of recent presentations can be found here (in German).
Supervision
Bachelor/ Master theses
Mert Ilpesin (Bachelor thesis , winter term 2016/17): Die Vielfalt der Koranexegese am Beispiel der Sura 2 Vers 102-103

Nesibe Kurt (Bachelor thesis): Die Bekleidung der Frau im Islam

Ipek Reyhan Tuncay (Bachelor thesis): Die Exegese zum Vers 3,39 im Vergleich von Bediüzzaman Said Nursi, Süleyman Ates und Mustafa Öztürk

Jemina Kreuzer (Bachelor thesis): Die Hadithdatierung und die Authentizitätsfrage der Überlieferungen

Maryam Gharjestani (Bachelor thesis): Zeitgenössische islamische Reformdenker

Seyhan Kati (Master thesis): Grundfragen einer zeitgenössischen islamischen Medienethik. Die zeitgenössische islambezogene Mediendebatte im Kontext des interreligiösen Mediendiskurses
Ongoing doctoral theses
Li Gang: "Negotiating the Future of Law: a Case Study of the Reconciliation of Islamic Law as Living Law and State Law in China"
Mahshid Risseh: "Women's freedom in marriage Dissolution under Iran regulations with a view to the Convention on the Elimination of all forms of Discrimination against Women (CEDAW)"
Peter Spiewok: "Junge Zeitzeugen der Offenbarung als aktive Bindeglieder zwischen der Prophetengemeinde und den Hadih-Autoritäten des zweiten Jahrhunderts"
Hadil Lababidi: "Nafs und Rūḥ: Vom Lebenshauch zur Selbstheit. Grundfragen islamischer Bioethik am Lebensende"
Talha Dogan: "Die Evaluation der exegetischen Ethik-Maßstäbe der mekkanischen Verse im Quran durch Ismail Haqqi Bursawi und Sayid Qutb"
Mohammed Al-Ahmari: "The Theory of Opposition and Alienation"
Sliman Abbouchi: "Problematik der Fatwa zwischen gesellschaftlicher Wirklichkeit und Interpretation des umstrittenen Hadiths aus der Perspektive des Fiqh und des Gesetzes"
Akrimi Matswah: "A Reconstructive Effort to the Concept of Jihad: A Study of Qur´anic Verses on Rewards for Martyrs"